Kind Corner: The Benefits of Online Training


Today's Kind Corner guest post is by Allison Schaefer, owner and trainer at Ethical Canine Training and Behaviour Modification. Allison writes about the benefits of online training for dogs, their guardians, and dog training companies.
Let's get reading!
---
The Benefits of Online Training
With the pandemic life, we learned that behaviour modification from a distance is a wonderful option for people and their dogs, with a number of advantages and benefits.
For the clients, it's more relaxing than having a stranger in their home, and less of a disruption of their day. Many of my client dogs are not comfortable having strangers in their homes, so doing consults this way means these dogs are less stressed, and I don't have to worry about aggression directed towards me. I get to see the dogs happy and comfortable at home with their families through the computer.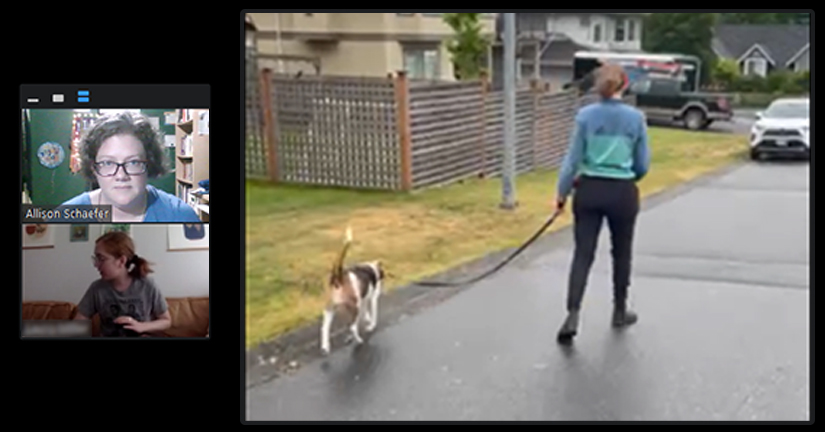 I switched to doing all of my initial behaviour consultations via Zoom in May of 2021, and I was so happy with the format and results that I'm continuing it indefinitely. Doing online training and behaviour consultations allow me to see clients who live outside of my immediate service area and, without the need for driving between sessions, I can see more clients in a day.
My initial consults involve talking and planning based on information, including videos of the dog that the owners have provided beforehand, so there's no real need for me to be in the room with the dog at all.
The Process
After the initial consultation, many clients have remarked that although they were unsure about approaching dog training this way, they felt the first session was informative, comprehensive, and low-stress. Even people who are unfamiliar with Zoom are able to navigate the easy-to-use software, and I do offer phone consults as a backup as well.
After the online consultation, the client and I work together to determine what the best next steps would be. I offer my clients three options:
In-person sessions (outdoors or in the facility I work at)
Online-only sessions
A combination of both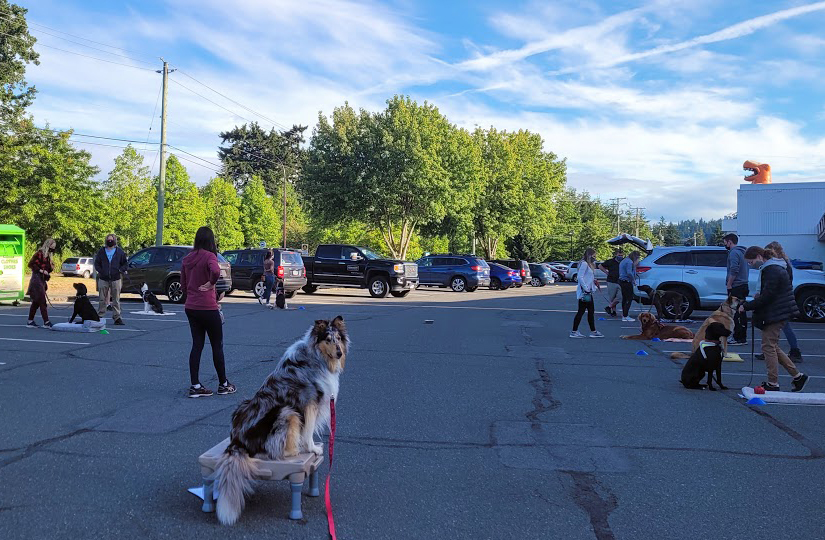 Different Options
In-person dog training sessions
Some people feel that in-person works best for their learning style, and I have found that some issues, such as dog/dog reactivity, are particularly well served with at least some in-person work. In-person sessions allow me to set up practice in a particular way, offer real-time handling adjustments, and give the clients some confidence boosts for things like dog/dog introductions (shout out to my amazing helper dog/partner Joni).
Online-only dog training sessions
Online-only training can be a great option for things like reactivity towards visitors, separation anxiety, or resource guarding. For these concerns, I will give the client assignments at our regular online meetings so they can practice with their dog. In our online sessions, clients ask questions, have me review videos of their own training with them, do live training for me on camera, or watch me provide demonstrations of what I'd like them to work on.
Online-only training can be a great option for things like reactivity towards visitors, separation anxiety, or resource guarding.
I prefer to do shorter 30-minute sessions when working online rather than the 60-minute in-person sessions. This, combined with the lack of driving to and from the clients' homes, means that it's more cost-effective and more flexible in terms of scheduling!
Online and in-person dog training sessions
I've discovered that a combination of online and in-person sessions is my favourite structure. The online sessions keep clients on track and allow them to ask any questions they may have, and the in-person sessions give me a chance to get another view of their progress and help move them forward. This approach allows me to design and implement the best behaviour support services that I can.
Here to Stay
Many lessons learned during the pandemic are here to stay, including all of the benefits that online dog training offers.
Those pandemic puppies and newly adopted dogs are now encountering camping trips and more guests to the home. They may need help meeting new people, having good manners at backyard gatherings, or being left alone with family members back to in-office work.
Now is the time to reach out to a qualified professional and find behaviour help that's tailored to your and your dog's needs!
---
Other useful resources