We are working to make wildlife-friendly prevention and exclusion methods the first option for wildlife and rodent control in B.C.
Join AnimalKind and show your customers that wildlife-friendly preventive pest control is possible and effective. By getting accredited by the BC SPCA, you are reaching B.C. home and business owners who care about wildlife and animal welfare. You are also showing environmentally-conscious municipalities that you take an evidence-based approach to control that protects B.C. wildlife. Here is how:
Read the Standards (PDF) to see if the program is a good fit.
Read the AnimalKind Operations Manual (PDF) to understand how the program runs.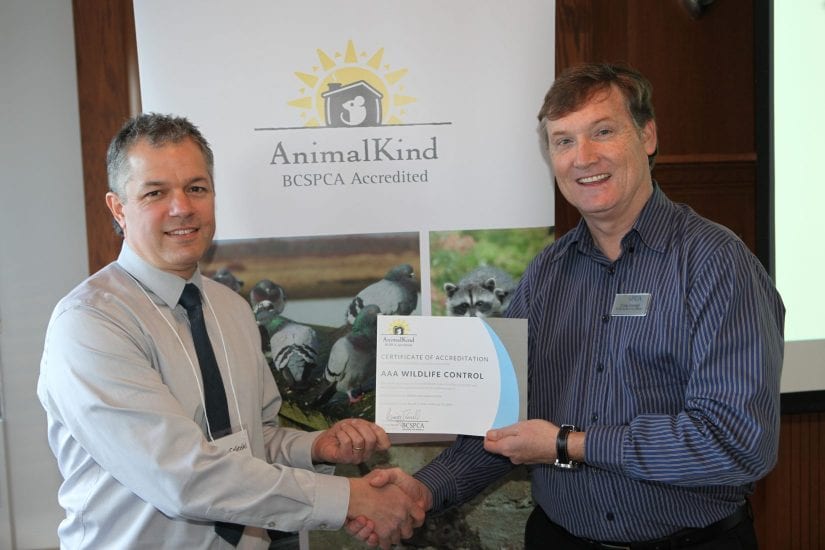 AAA Wildlife Control Owner/President Randy Celinski and BC SPCA CEO Craig Daniell. AAA Wildlife Control was the first company to become AnimalKind accredited.
Let AnimalKind support your business growth
AnimalKind accredited businesses can rely on the credibility and reputation of the BC SPCA. Receive BC SPCA support to your bid for a contract with a municipality or a recommendation to an important client.
Benefits
Be recognized as a leader in B.C. wildlife and rodent control
Set your company apart with endorsement from the BC SPCA
Be part of a community that promotes animal-friendly pest control methods
Get referrals from the BC SPCA and our referral partners
Accreditation Process

The accreditation process has 5 steps:
Apply: Complete the application form and submit the documents needed for the pre-audit.
Pre-audit: AnimalKind reviews the application to determine if your business should proceed to the full audit. Once completed, AnimalKind contacts you to arrange the audit date and issues an invoice for the audit deposit payment.
Audit: Audits have two parts: a business administration audit and a performance audit. Audits review documents, websites, social media and other marketing materials, and include in-person observations of facilities, equipment, and observations of your services. Your technicians will need to view a short pre-recorded webinar about AnimalKind standards. Our audit has achieved certification from the internationally-recognized Professional Animal Auditor Certification Organization (PAACO).
Decision: An audit report is provided to you from the auditor for you to review and respond to. The AnimalKind Review Panel evaluates your audit and recommends whether to accredit you.
Accredited: You review and sign the AnimalKind Accreditation Agreement and pay your membership fee. Congratulations, you are AnimalKind accredited!
" Having spent much of my 33-year career in this industry trying in vain to establish licensing for wildlife control, I understand how much work went into creating AnimalKind. I am so excited about the positive impact this program will have on our cities and I cannot wait for AnimalKind to become the North American standard. "
" The Fur-Bearers organization is thrilled that customers can now turn to AnimalKind to distinguish between companies that truly care for and protect wildlife, and those that call themselves "humane" as a marketing gimmick. "
" Wildlife Rescue Association of BC welcomes the AnimalKind accreditation program! Accredited pest control companies support coexisting with wildlife and taking a humane approach that benefits both people and wildlife. "

We know it is important for you to have a positive impact in the industry through your humane approach to wildlife and rodent control. JOIN NOW!