Municipalities can take action to protect local wildlife and the environment by creating a Municipal Pest Control Strategy that reflects the values of its residents, sets practices in a local context, and is informed by the latest research.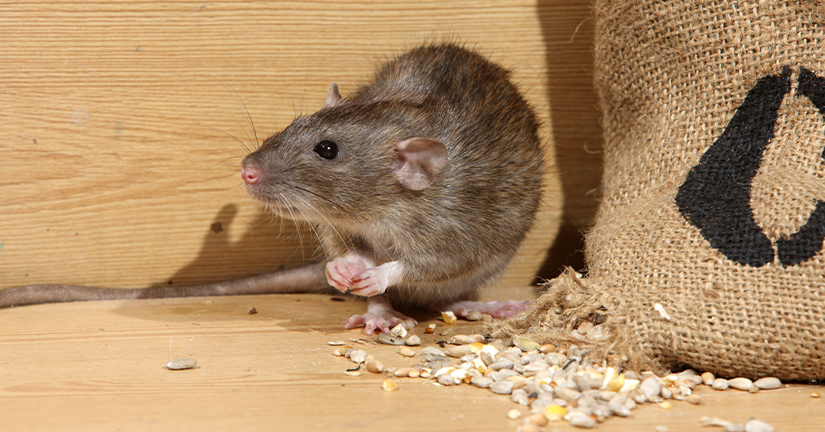 In partnership with the University of British Columbia, the BC SPCA developed the AnimalKind Rodent & Wildlife Control program to provide practical resources to municipalities and the public. Pest control is necessary to protect public health and safety and preserve infrastructure, but making pest control choices that reduce harms to wildlife is possible.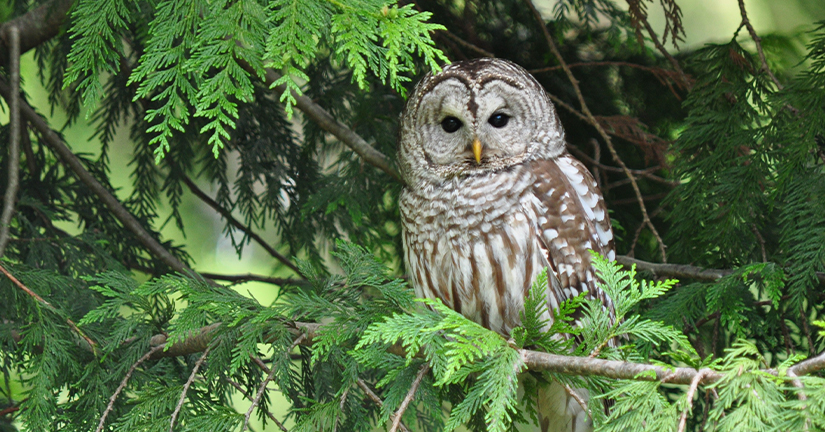 Become a leader
Some rodenticides are legal but they harm wildlife and the environment. Effective alternatives are available, and ongoing research will hopefully eliminate their use in the near future.
Rodenticides are approved by the federal government and use is regulated by the Province, which enacted a ban on the use of second-generation anticoagulant rodenticides (brodifacoum, bromodialone, and difethialone) for sale and use in residential (PDF) and non-essential commercial (PDF) settings in B.C. Exemptions are allowed for designated essential services and agricultural operators.
The actions and leadership of progressive B.C. municipalities helped achieve the provincial ban. Municipalities can continue to lead with progressive policies that protect local wildlife and solve pest control issues by ensuring all rodenticide use is covered by broader bylaws.
Join other B.C. municipalities to create this change for your community.
Looking for an example of council motions and how to implement rodenticide-free policies that restrict more than just SGARs? Review the progressive changes made in the District of North Vancouver: Motion (PDF) & Pest Management Policy (PDF); and City of Port Moody: Motion (PDF)
Whether pest control is done in-house by municipal staff or contracted out, knowing the scope and type of your pest problem is the first step in creating a wildlife-friendly Municipal Pest Control Strategy:
Inventory current pest control methods used, costs and rodent complaints
Use our risk assessment sheet (printable, fillable, photo examples) to determine the rodent risk level for municipal buildings and infrastructure
Commit to ending or limiting rodenticides on municipal properties like other municipalities
Assess the feasibility of incorporating the BC SPCA's AnimalKind standards for wildlife and rodent control (PDF) into pest control contracts similar to the City of Delta and the Vancouver Parks Board
Develop a contractor policy* or include specifics in RFPs to set out expectations for any company being hired
Create an internal pest control* policy for any in-house control measures
Ensure attractant management and prevention is built into the strategy by integrating solid waste management and operations
Assess which pest control tools are to be used based on observed risk level and review alternatives to rodenticides that can be used
Monitor use of lethal traps through regular maintenance and trap checking programs
Educate residents on actions they can take to reduce rodenticide use at homes and businesses
*Email AnimalKind for more information.
Contact us to ask about what we can do to support your municipality to implement a wildlife-friendly Municipal Pest Control Strategy.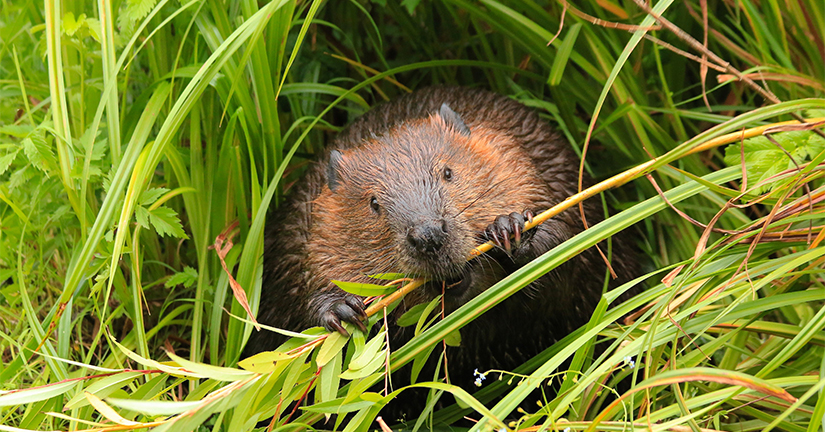 Benefits of AnimalKind
Your municipality can also work with an AnimalKind company accredited by BC SPCA and gain added assurance that BC SPCA has audited the company. A commitment to AnimalKind says your pest control program:
Is based on credible, science-based standards
Is transparent as standards are available online (PDF)
Follows internationally endorsed and peer-reviewed consensus principles for ethical wildlife control (PDF)
Outlines responsible rodenticide use in cases of exceptional public health concerns
Assures your community of wildlife-friendly preventative approach to control
Any pest control company can call themselves "humane" as this is a great marketing tool – but it doesn't necessarily mean they are using science-based, animal-friendly methods. Rodenticides, traps, and lethal control are standard and legal tools in pest and wildlife control and knowing what questions to ask a company is key.
Ethical companies are transparent about the methods they use for all species – managing rodents often uses both lethal and non-lethal approaches, but there is no reason lethal approaches should be prioritized for other species. Check out this novel approach for humanely managing pigeons at SkyTrain stations through a BC SPCA, UBC, and Translink partnership.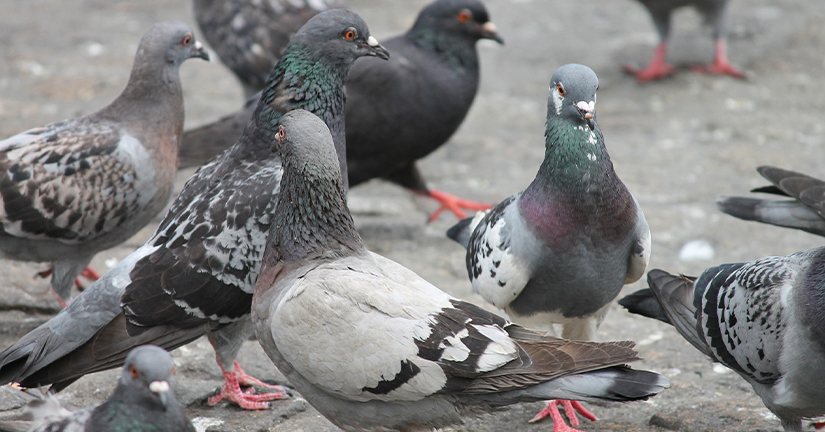 What does "humane" mean to the BC public?
In May 2021, thanks to a grant from the Vancouver Foundation, we conducted a poll* of 860 BC residents and learned "humane pest control" is still misunderstood. The term "humane" used in pest control still varies in definitions among BC residents surveyed since our last 2015 poll**.
When asked, what do you think the term 'humane' means in terms of pest control? Respondents could choose more than one response and they said 'humane' is: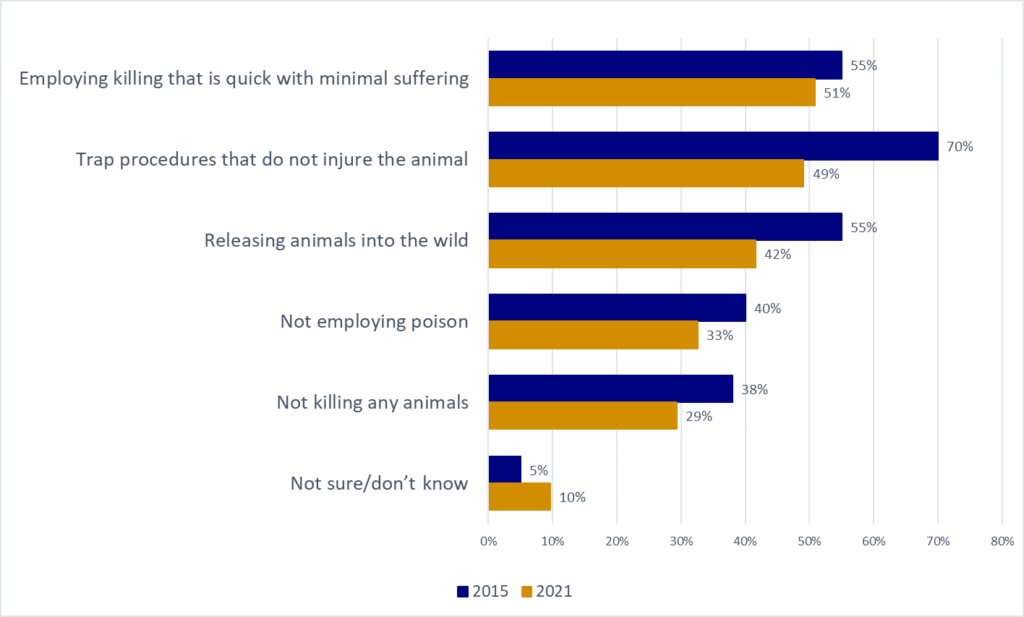 This can make it hard for municipalities to make ethical choices for their community that protects local wildlife and the environment. The BC SPCA's AnimalKind standards serve as a blueprint, and other resources on rodenticides, humane pest control, and wildlife are also available.

Find out what we can do to support your municipality to implement a Municipal Pest Control Strategy. Contact us now!