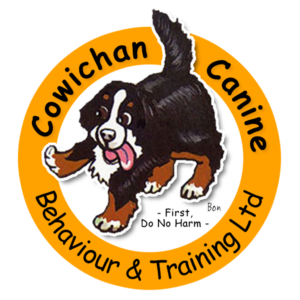 Cowichan Canine
Behaviour & Training Ltd
Online dog training
Behaviour consulting
Manners & basic skills
Private sessions
Puppy group classes
Reactivity
Cowichan Canine is a full-service dog training provider: classes, private lessons, day training, Board & Train, as well as private behaviour modification consultations, are available. We also offer pre-acquisition consultations to help you find the most suitable dog for you.
We offer seminars and workshops from time to time on specific subjects.
Cowichan Canine is a proud sponsor of: – PACTA BC (https://www.pactabc.ca/) – Cowichan Wags 4-H Dog Club (https://www.4hbc.ca/clubs/view/18-cowichan-wags-4-h-dog-club) – Dogs awaiting adoption at the Cowichan & District SPCA by giving them free spots in class if they have a volunteer to train with them, as well as a one-hour free post-adoption private consultation (voucher from Cowichan & District SPCA required as proof of adoption)
Area of service: Duncan and surrounding Cowichan Valley area.